State-of-the-art talent assessment platform
Phoenix51 is a state-of-the-art talent assessment platform enabling organisations to make data-driven decisions at every stage of the employee journey, from hiring through to benchmarking and development. Providing detailed analytics on each individual, the platform helps organisations not only to make the right hiring decisions, but to benchmark, train and retain their employees.
Assess
Assess prospective applicants against core competencies, using state-of-the-art technology and embedded video tools.
Hire
Use data analytics, graphs and scoring to make informed hiring decisions for your organisation.
Train
Analyse specific data points to create tailored development pathways for each employee in your organisation.
Retain
See increased levels of year 1 retention and productivity, with employees that bring the right skills, attitudes and values to your organisation.
Find out how much you can save
Unstructured interviews and assessments give organisations less than a 50% chance of making the correct hiring decisions. - CIPD
Digitising talent and people assessment
Phoenix51 is designed to act as your in-house tool for interviews and assessments. The platform's digital competency frameworks uses algorithms to mirror company cultures, values and behaviours and digital scorecards to capture the people data. Capable of being used for individual interviews or group assessments, Phoenix51 mitigates against unconscious bias. It helps ensure you make informed, data-led decisions for hiring, promotion or skills analysis.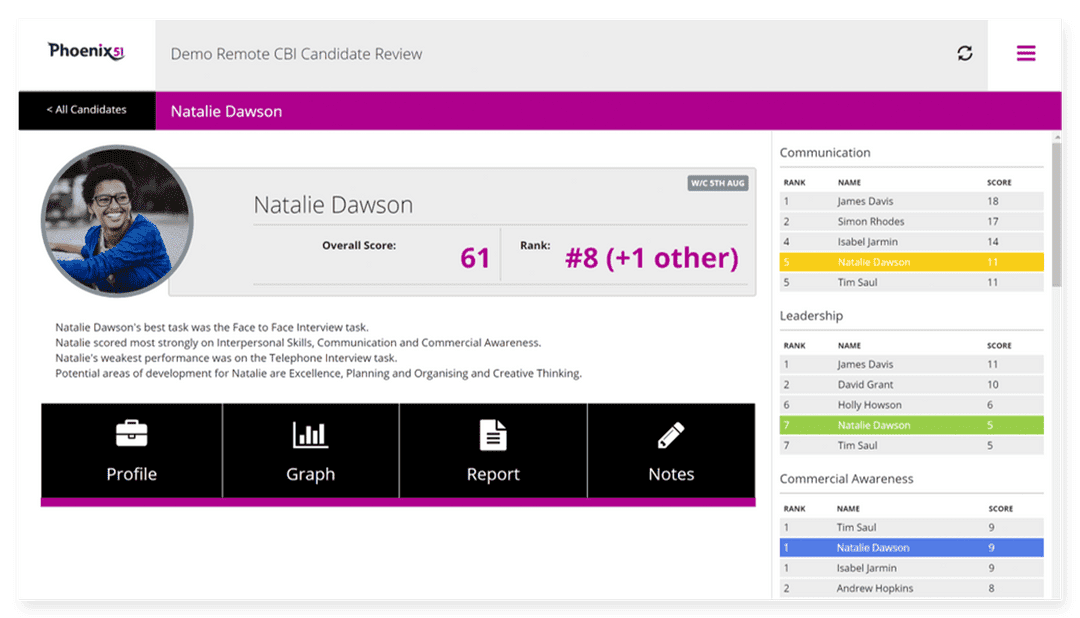 Competency analysis
Map our digital competency frameworks against your organisation's culture, values and skills.
Video Integration
Seamless video integration allows for remote competency-based interviewing and pre-screening.
Psychometric tools
Access to advanced psychometric tools aids in the hiring and development process.
Virtual Assessment Centres
Run group assessments in a virtual environment.
Talk to Us ➝
" To have a tool which is slick, fair and concise, not to mention data-led, has been a revelation. "
" We love this platform. The ability to use a tool globally has been fantastic, and we're finally able to offer proper feedback. We can't live without it! "